【Free Seminar】The Age of Voyages in China – Marine Story from Historical Figures
The Age of Voyages began in the late 15th century and lasted into the early years of the 16th century. The period is characterized as a time when Europeans began exploring the world by opening new routes across the Atlantic Ocean to America, new routes along Africa to India, and achieving the first circumnavigation of the globe. However, the Age of Voyages also took place in China, and had started with marine historical figures.
Maritime Silk Road Society (MSRS) and Savantas Policy Institute (SPI) are pleased to invite Mr Liang Erping to present a talk on "The Age of Voyages in China – Marine Story from Historical Figures". Less-known stories of marine history will be shared in the talk, which enable participants to gain a fresh insight into two thousand years of maritime history through historical paintings.
Mr Liang is a veteran journalist, senior editor, columnist, oceanic culture scholar, and Art Director of Ocean Art Research Center of Shenzhen University. Since 1980s, Mr Liang has visited various provinces in China and over 30 counties, and written some books on travelling. From 2000, he has focused on oceanic culture. He is also an author of several books covering marine history and geography. He has published several volumes of essays, some of which were translated to other languages and introduced to other countries and regions.
Those who are interested in the talk are invited to register. Details of the talk are as follows:
Date: 30 January 2018 (Tuesday)
Time: 2:00pm - registration; 2:30pm - commencement
Venue: HKUST Business School Central, 15/F Hong Kong Club Building, 3A Chater Road, Central, Hong Kong
Language: Putonghua
Admission: Free of charge, by registration
Please kindly register on or before 26 January 2018 by clicking the following link:
https://goo.gl/forms/bBq5O0uNEyeTXmjX2
Seats are available on a first-come-first-serve basis. Should you have any enquiries, please contact us by phone at 2111 9262 or by email at seminar@maritimesilkroad.org.hk.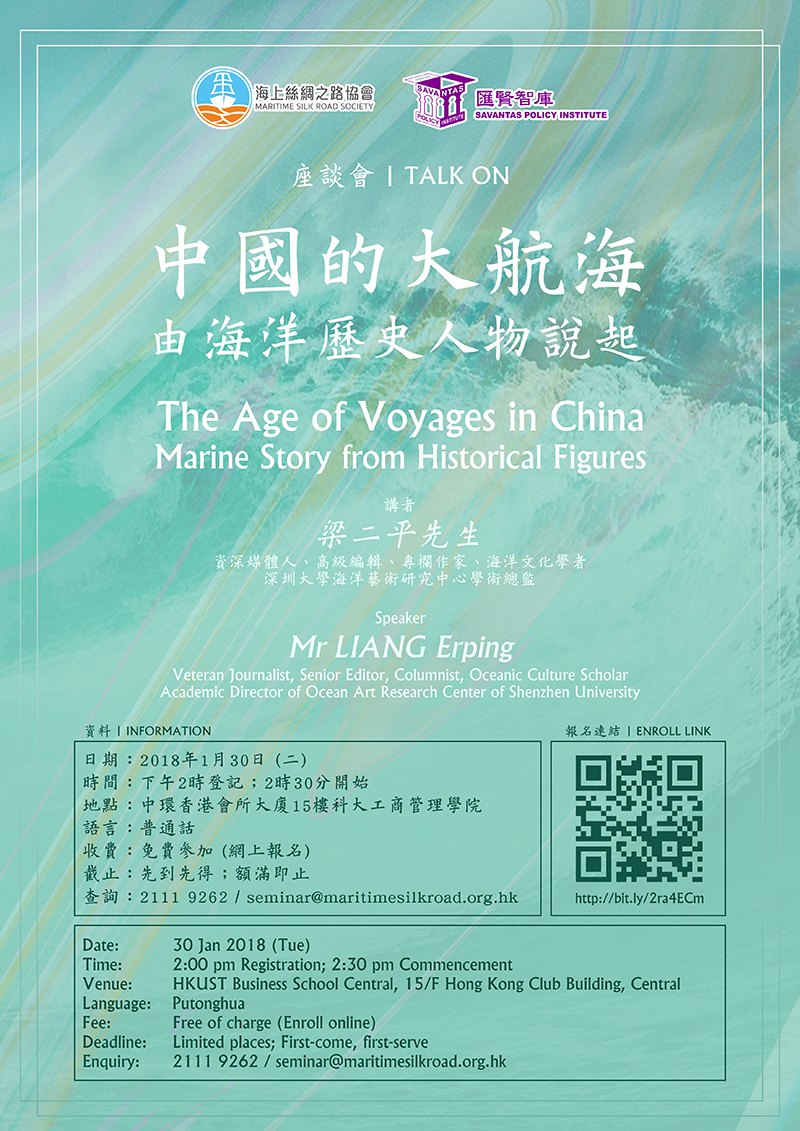 【Free Seminar on Finance】Green Bonds
CE Carrie Lam released her first policy address last year on 11th October. In it, she mentioned that the government shall offer green bonds so as to promote it in the Hong Kong capital market. But what exactly is green bond? What is its market roles and history? What is its current status?
Savantas Policy Institute is honoured to have invited Professor Stan Ho, Professor of Practice in the Department of Economics at Lingnan University to provide us with some insight on the matter.
Here are the details for this event:
Date: 26th January 2018 (Friday)
Time: 7PM - 8:30PM
Venue: Germaine Lau Conference Room, A-B, 11/F, China Overseas Building, 139 Hennessy Road, Wanchai, Hong Kong
Language: Cantonese
Please click here to register for our event. First come, first serve.